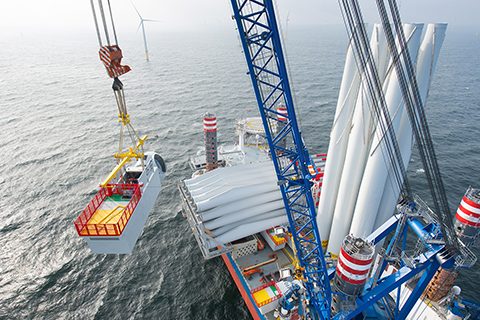 By Jens Nielsen, Director, Head of Procurement, A2SEA
We have now finalised two locally based mobilisations in the UK, representing a clear forward step in bringing projects and jobs to the region. So what has it been like to do this for the first time? And does it mean for the future?
Mobilising our vessels for the Dudgeon and Burbo Bank Extension offshore wind farms was completed on 1 September. They were our first ever large-scale UK mobilisations, and they were accompanied by a long list of firsts from both planning and logistics points of view.
Offshore wind developments
UK wind energy interests are strongly focused on securing local participation in the huge wave of offshore wind developments going on in and around the region. A2SEA's focus, as ever, is on identifying shipyards and other suppliers that can provide the right levels of capabilities and safety – at the right time, the right price and in the right quality.
The mobilisation choices for the Dudgeon and Burbo Bank Extension projects fell on two shipyards: Cammell Laird in Liverpool, and A&P's Tyne yard. Each yard was contracted to provide more than 15,000 man hours each – for a total of over GBP 5 million. Of course, we have worked with shipyards in a variety of contexts before – but these two projects were significant because they mark an evolution in our overall approach to mobilisation.
Turnkey project
Here is the difference: Normally, A2SEA retains full control over its mobilisations, dividing the project into a number of deliveries. For the Dudgeon and Burbo Bank Extension mobilisations, however, we departed from this approach, offering the entire process for tender as a single task, and sourcing the manufacture, delivery and fitting of the sea fastenings from each yard.
So how well did this work? The nature and extent of the associated learning curves differed from yard to yard, but the new approach seems largely to have paid off (there are always teething issues, of course, with any new approach – but that's why we work as a team!).
Naturally, A2SEA strongly emphasised its quality and safety requirements – both during the tendering phase and via proven processes such as our Supplier Safety Days, where local contractors of all kinds are invited for detailed discussions.
Local for the long run
There is a lot of focus on building long-term relationships with local suppliers, particularly at Hull, where we are looking for manpower and other capabilities that can support our vessels for future projects. And we meet plenty of enthusiasm – with huge interest from a wide variety of companies. In fact, we have received several hundred registrations of interest for every aspect of services and products. Some we are already going further with, others are earmarked as potential suppliers for later.
Supporting the development of local supply chains is tremendously rewarding – and doing so is key to A2SEA's success. It is made all the more rewarding thanks to the activity of local business clusters, who support their members in the UK as strongly as anything we have encountered around Europe. The emphasis is always on creating wins for both sides, and we have certainly been made to feel welcome.
Like this post? Subscribe now and get notified about new content!