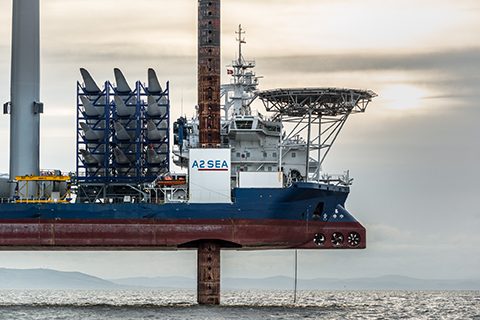 By Mette Jørvad
Director, Head of Communication & Marketing
Everyone likes to win. This year, it wasn't quite our turn, although we did come a close second to the winners of Renewable UK's Health & Safety Award 2017, the British energy company SSE, which is headquartered in Scotland. But instead of just blowing our own trumpet about being the still proud runner-up (we did make the announcement on our company website), we'd like to applaud the efforts of our offshore wind colleagues.
SSE manages Greater Gabbard Offshore Winds Limited. and their project, created together with BMO Offshore, a maritime operational intelligence company, revolved around vessel performance monitoring and tracking as part of the overall strategy to continually improve operations at the wind farm. The core of it seems to be a vessel movement monitoring system (a kind of black box for vessels) that collects data essential to improving the operational performance and offshore safety of crew boats.
It makes a lot of sense to focus on this area. While the project seeks to optimise many aspects of operations, it obviously has strong health and safety implications. For example, sea swells, wind, and vessel dynamics can make working life pretty unpleasant for offshore wind farm workers. Yet those same workers are expected to perform at the top of their game – throughout the execution of their tasks. And they have to deal with risky environments, staying alert at all times.
According to SSE and BMO Offshore, recording the vessel motions and its effects on passengers during transits to the wind farm, and issuing notifications when thresholds are exceeded, is an important step to ensure transits are optimised both for passenger comfort and the day's work ahead. All Greater Gabbard Offshore Winds Limited (GGOWL) chartered vessels at the wind farm are fitted with motion-monitoring systems.
It's a great initiative and good inspiration for the industry as a whole. We wish the Vessel Motion Monitoring Team, as the joint SSE/BMO Offshore workgroup calls itself, all the best with their win and the next steps of their project.
Like this post? Subscribe now and get notified about new content!