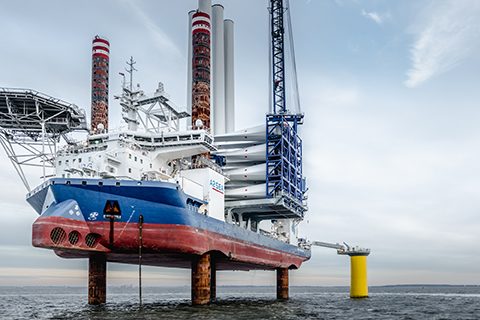 By Andy Reay, A2SEA Regional Manager for the UK
These are busy times at A2SEA – and for many of our partners and competitors, too. That's because we're up to our ears in work needed to submit tenders for the UK 'CFDs' (Contracts for Difference). It's also a process that stimulates long-term thinking and generates new insights into the industry's current state and the years to come.
With this in mind, we'd like to highlight a couple of key differences we can see in wind farm projects today compared with just two or three years ago. And they are well worth a moment's consideration.
The current CFD auctions apply to projects that start in 2020 and run to 2023. That's the first major change I'd like to point to – that we are now tendering for projects up to 5 years ahead of the day installation actually begins – instead of the two years or so that was typical back in, say, 2013 or 2014. The second change is that companies like our own are being asked to take over a greater proportion of the risk profile for offshore wind projects. That means assuming responsibility for project cost or time overruns associated with, for example, the weather or seabed conditions.
A2SEA welcomes these developments, of course, as part of the inevitable and healthy evolution of the industry. Not so long ago, however, with the shorter installation horizons of the recent past, we were able to take risks and adjust reasonably quickly to accommodate them. So we could rapidly implement a change in our processes and make this the new best practice. With the new, longer horizons, we have to be very careful to consider the many possible risk scenarios that could have a significant impact on our business. We're effectively making decisions that will apply five years ahead, so of course, we want those decisions to be right all of the time. Not a simple task, as you might imagine, and making mistakes is clearly a "no-go" for us and our clients.
Of course, we have the expertise on board to understand the technical and commercial realities as well as anyone. But there is no doubt that the entire industry has a lot to learn about the implications of both the new, longer contract horizons, and how to take on, and deal with a greater portion of the risks whose realities will first become apparent years from today.
Like this post? Subscribe now and get notified about new content!